NAAC WDS 1 - Jan 28-29, 2023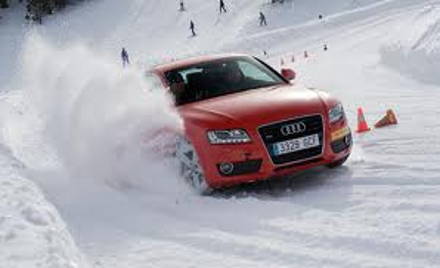 Audi Club NA - North Atlantic Chapter
Saturday, Jan 28 — Sunday, Jan 29, 2023
Team O'Neil Rally School
,
Dalton

,

NH
Registration closed January 24, 2023 11:59 PM at 2023-01-24T20:59:00-0800 Registration ends January 24, 2023 11:59 PM at 2023-01-24T20:59:00-0800 Registration opens October 16, 2022 12:00 AM at 2022-10-15T21:00:00-0700 Registration runs from October 16, 2022 12:00 AM to January 24, 2023 11:59 PM


Our 25th year of Winter Driving Schools at the Team O'Neil Rally School in Dalton, NH ...
more than 1,500 students trained
Picture yourself on an icy road, in a bit of a hurry. Going into a turn, you feel the car begin to slide. You've hit the brakes, turned the wheel, and still the car continues to slide…with a stone wall on the outside of the turn. What do you do? Close your eyes and pray for a soft snowbank? Or apply the skills you could learn in the North Atlantic Audi Club's premier events, our two Winter Driving Schools ? Check out this VIDEO
If you would like to learn to control your car in slippery conditions, to handle every type of skid (including correcting understeer and oversteer), and to stop more quickly in snowy or icy conditions then join the North Atlantic Audi Club for one (or both!) of our premier winter driving schools, to be held on January 28-29, 2022 and February 25-26, 2022 at the Team O'Neil Rally School in Dalton, NH. It's a safe, low-speed event on a closed course with expert instruction in a fun atmosphere where there will be ample opportunity opportunity to socialize with like-minded enthusiasts.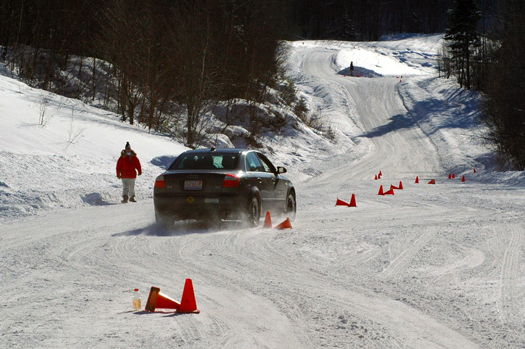 On Saturday at 8:30 a.m., we will begin in the classroom, covering the basic principles of driving on frozen surfaces: types of skids and how to correct them, managing weight transfer, and looking as far ahead as possible. You will then drive your vehicle to Team O'Neil, where we will rotate through different exercises including a slalom, a skid pad, and a combined course where the classroom principles will be put into practice, all with an experienced instructor in the passenger seat. Saturday afternoon will wrap up with a team driving event. Saturday evening at the Hampton Inn we will hold a social event with cheese + crackers, snacks, and drinks for more opportunity to relax, socialize and brag about your day's performance. Sunday we will return to Team O'Neil, consolidating skills through repetition, and finish the day with a time trial competition.
This school is very much at your own pace, and everyone from novices to advanced drivers will learn a great deal and have a blast. For novices we focus on recovering from skids, smoothness, vision, and improving consistency through practice. For advanced students who have mastered the basics, we will offer instruction in techniques such as handbrake turns, left foot braking, threshold braking, trailing throttle oversteer and mastering the "Scandinavian flick". For everyone this is an excellent opportunity to learn car control skills that can make you a safer driver under all conditions and reduce lap times on the track or autocross course.
The skid pad teaches the difference between understeer and oversteer (and is a lot of fun!), while
The slalom teaches the importance of looking ahead, weight transfer, and the proper amount of steering input.
Combining the two into a challenging road course puts everything together and includes a variety of turns and a "lane toss" where a devious instructor directs the student to switch into one of two lanes and stop the car, all in distances that look difficult if not impossible (but believe us, with practice it is possible).
Front- and rear-wheel drive vehicles are required to have snow tires on the drive wheels as a minimum. Snow tires will this icon on the tire sidewall:
.Our school is a great opportunity for permit and licensed drivers of all ages to learn how to confidently drive in a New England winter. Held at a safe and isolated facility, this is the perfect place to learn car control skills. Unlike events held on a race track, there are no restrictions on the type of vehicle allowed – convertibles, trucks, and front-, rear-, and all-wheel-drive vehicles of all kinds are welcome (they don't even have to be Audis!).
Though the school officially begins on Saturday morning, if you are in town on Friday evening, please join us at the Hampton Inn at 7:30 p.m. for an informal gathering with wine and cheese, plus an information session on preparing your car for winter driving and roadside emergencies.
The school wraps up with a fun 'time trial' that connects the skidpad and exercise areas where the goal is consistency through several runs.
Schedule
| | | | |
| --- | --- | --- | --- |
| Social - Wine + Cheese | Hampton Inn | Friday | 7:30PM - 9:00 PM |
| Registration | Team O'Neil | Saturday | 8:00 AM - 8:20 AM |
| Classroom Training | Team O'Neil | Saturday | 8:30 AM - 9:45 AM |
| Track Time | Team O'Neil | Saturday | 10:00 AM - 4:00 PM |
| Social | Hampton Inn | Saturday | 6:00 PM - 7:30 PM |
| Track Time | Team O'Neil | Sunday | 9:00 AM - 1:25 PM |
| Graduation | Team O'Neil | Sunday | 1:25 PM - 1:45 PM |
| Time Trial (Optional) | Team O'Neil | Sunday | 1:45 PM - 3:00 PM |
NAAC will provide sandwiches, snacks, and cold beverages for lunch Saturday and Sunday
Fees
Under 21 with registering parent . . . . . . . $ 175 / 200 (ACNA,PCA, BMW parent member / all others)
ACNA/PCA/BMW Members . . . . . . . . . . . $ 350
All others . . . . . . . . . . . . . . . . . . . . . . . . . $ 375