NAAC Covered Bridge Tour - Supporting Best Buddies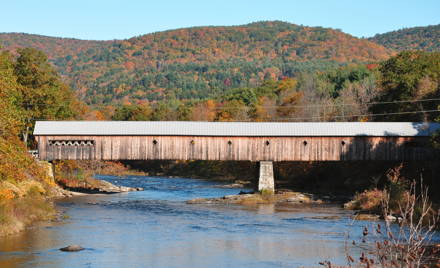 Audi Club NA - North Atlantic Chapter
Saturday, August 8, 2020
McDonalds, Tilton NH
,
Tilton

,

NH
Registration closed August 7, 2020 6:00 AM at 2020-08-07T03:00:00-0700 Registration ends August 7, 2020 6:00 AM at 2020-08-07T03:00:00-0700 Registration opens June 13, 2020 12:00 AM at 2020-06-12T21:00:00-0700 Registration runs from June 13, 2020 12:00 AM to August 7, 2020 6:00 AM
NAAC invites you to enjoy our fifth annual Covered Bridge Tour Saturday August 8, this year traversing roads and bridges in central New Hampshire. Of course holding the tour in early August is subject to accommodating Coronavirus restrictions in effect in New Hampshire and from ACNA. Check the NAAC website or Facebook page for updates; if you pre-register you will also receive status emails and a refund if we must cancel the event.
Proceeds from this year's Covered Bridge Tour will benefit NH Best Buddies (BB). BB is a nonprofit 501 (c)(3) organization dedicated to establishing a global volunteer movement that creates opportunities for one-to-one friendships, integrated employment, leadership development, and inclusive living for individuals with intellectual and developmental disabilities.
T
he tour will start at the McDonalds Parking Lot, Exit 20 from route 93 in Tilton NH. The tour will be approximately 125 miles, with a mid-morning break in Andover NH., and Lunch in Plymouth NH. Lunch will be on your own, and we have designed the day so that you can bring a picnic lunch, or stop at McDonalds or other locations. The tour will end in Ashland NH, with the possibility of a social/dinner at the Common Man Restaurant for those who want to stick around. All this will be based upon responsible coronavirus behavior and as allowed by the NH Regulations for coronavirus in effect at the time.
This year's tour will require some walking. One bridge, unique in its own way as it is the only one of its kind left standing, is a 15 minute walk on a paved path from the parking area. Other bridges will be driven through, while others are reserved only for pedestrian traffic In addition we will stop at scenic vistas of the White Mountains
Check-in on the day of the tour will begin at 8:30 AM at the MacDonald's in Tilton, and first car off at is at 9:00 AM. The tour ends at approximately 4:15 in the afternoon in Ashland, NH. Your registration fee will be refunded if the event must be canceled.
And a little about covered bridges................
A covered bridge is a timber-truss bridge with a roof, decking and siding, which means most covered bridges create an almost complete enclosure. The purpose of the covering is to protect the wooden structural members from the weather. Uncovered wooden bridges typically have a lifespan of only 20 years because of the effects of rain and sun, but a covered bridge could last over 100 years.
Covered bridges represent a link with our past. They stand as monuments to builders who had the vision and the ability to design and construct engineering masterpieces of wood. Men such as Ithiel Town, Stephen Long, James Tasker, and more recently, Milton Graton have left a lasting impression on the landscape.
There are about 14,000 covered bridges that have been built in the United States, most in the years 1825 to 1875. Today surviving bridges are numbered at fewer that 1000 by the United States Department of Transportation, and 814 by the National Society for the Preservation of Covered Bridges as of 2009.
Remember too, each covered bridge is captured at a moment in time. These structures will change. Some will disappear, succumbing to the ravages of time and the carelessness of man. The outward appearance of some bridges will change in the future as they are rebuilt. Many bridges will appear to grow stronger as everything around them ages while others will appear ancient in their modern surroundings. Each bridge however, contains a character and an individuality all its own.